The mechanical bull ride is also known as the inflated sporting cow ride, which is an exciting recreational and inflatable ride. The design concept of this crazy mechanical bull was evolved from the Spanish Bullfight. This crazy original pursuit is welcomed by modern people. In this game, people can not only experience the fun and excitement of real bullfighting, but also be safer and safer. mechanical bull rides is a kind of amusement park equipment, which can be seen in amusement parks, parks, shopping centers, bars, pedestrian streets, squares, indoor and outdoor playgrounds and other places.
Advantage of inflatable rodeo bull
The mechanical bull has the advantages of surprising and thrilling experience.
Low cost and investment, large appeal, positive participation.
Only need 10 square meters, two working staffs, easy to operate.
It is popular used in the bar, shopping mall, outdoor playground, parks and pedestrian street.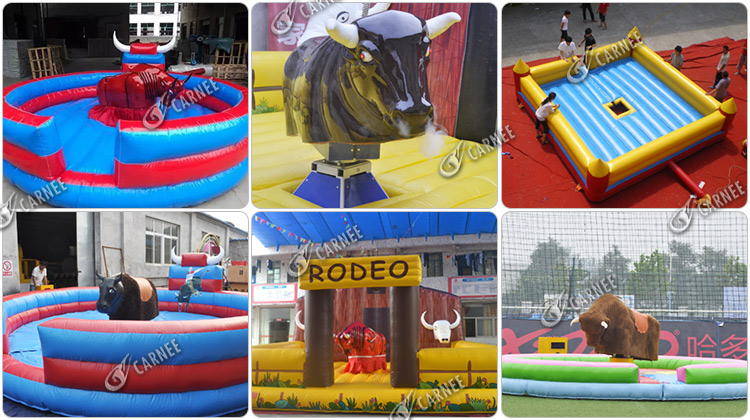 Carnee produces different models of high quality mechanical rides with lower prices. The device has the advantages of low cost, low investment, strong attraction, wide application, and strong participation. Easy installation and operation: The ride time is 8-10m2, and two employees can easily operate. As a professional and leading manufacturer and supplier of a variety of amusement park rides, Carnee provides mechanical bull rides to customers around the world to meet the different needs of different customers. Carnee also provides high-quality pre-sales and after-sales services, and can provide different types of company certification and various types of amusement facilities.
Amusement park rides manufacturer
With professional designer team, quality inspection department, experienced engineer, high quality painter etc.
Our main products :
Thrill Rides: Disk'O Ride, Frog Hopper, mini coaster ride, pirate ship ride, Tagada ride, Wave swinger, Jumping Bounce
Family&Kids Rides: Ferris wheel, Seahorse Carousel, Bumper Car, Samba Balloon ride, Coffee Cup ride, Merry-go-round, Trackless train
Carousel Ride: Seahorse Carousel, Merry-go-round
Swing Ride: Wave swinger
Rides based on rail: Worm Coaster, Train amusement ride, mini coaster ride